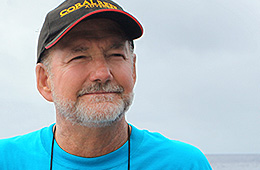 Greg MacGillivray
(Director) is a giant-screen documentary filmmaker who has produced and directed many of the most successful films shown in IMAX® theatres, including the box-office hit Everest and the Academy Award®-nominated films The Living Sea and Dolphins. His 2012 film, To The Arctic, received the Best Film of the Year award from the Giant Screen Cinema Association, and he most recently directed Journey To The South Pacific.
With 37 giant-screen films to his credit, MacGillivray has shot more 70mm film than anyone in cinema history—more than two million feet. He is the first documentary filmmaker to reach the $1 billion benchmark in worldwide ticket sales.
An ardent ocean conservationist, MacGillivray and his wife Barbara founded the One World One Ocean Foundation, a non-profit public charity devoted to ocean science education through giant-screen films and companion programming. Humpback Whales is the third film that MacGillivray Freeman Films has produced in association with the One World One Ocean Foundation, following To The Arctic and Journey To The South Pacific.
Academy Award® is a registered trademark of the Academy of Motion Picture Arts and Sciences.